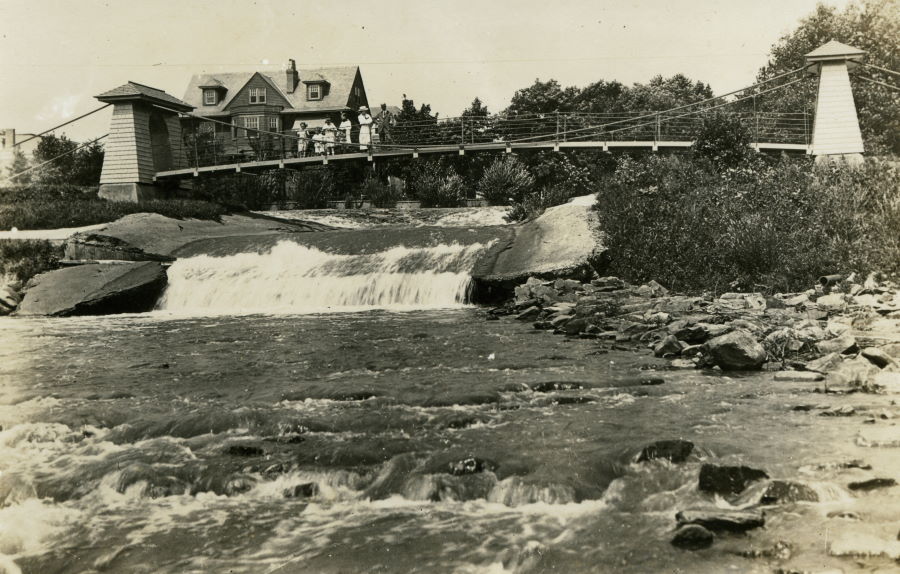 This little suspension bridge, which spans the attractively named Waste Weir, was built by the Roebling Company. Some internet sources say it is a miniature replica of one of Roebling's more famous projects, either the Brooklyn Bridge or the Niagara Bridge. Although it uses the same suspension technology, the design is not identical. Other sources say it was built to demonstrate suspension technology, and then given to the city of Trenton. I haven't seen a firm date for when it was built.
The Shaky Bridge sits between the Delaware River and Route 29 in Stacy Park. Route 29 runs over the alignment of the Trenton Water Power, a seven mile long canal completed in 1834 – the same year as the 65 mile long D&R Canal.
The Water Power's chief engineer was Benjamin Wright, who had earlier supervised construction of the Erie Canal in New York. Unlike the D&R Canal, which was built as a transportation route, the primary purpose of the Water Power was to provide power for mills along its banks. A group led by industrialist Peter Cooper took control of the power canal in 1845 and its water was used to power the Cooper & Hewitt company's Trenton Iron Company Roller Mills. By the early twentieth century, there were no longer any mills using its water, and it was renamed Sanhican Creek. In the 1950s, the Water Power Canal was filled in and the Route 29 highway was built over it.