This former Standard Oil gas station built around 1930 in Cañon City, Colorado is currently occupied by an antique store. A 2008 National Park Service Preservation Brief notes that beginning in the 1920s, gas companies began designing gas stations to look more like residential buildings to help them blend into their surrounding neighborhoods.
The move toward the house-type station was also a sign of growing competition within the oil industry as businesses worked to garner customer trust and loyalty. Companies developed distinctive brands and signature building forms. Pure Oil, for example was well-known for its English Cottage stations, while Standard Oil favored Colonial Revival designs. The effort to develop iconic signage and stations foreshadowed all-encompassing branding campaigns that dominated gas station design later in the century.

Chad Randl, The Preservation and Reuse of Historic Gas Stations. Preservation Briefs 46.
Here's an example of the Cottage Style in a Pure Oil station in Virginia awaiting restoration. In addition to Colonial Revival styles, Standard Oil also built many stations in a Spanish Mission style. In addition to this Colorado building, there's an identical one in Pueblo, Colorado. Many other surviving ones can be seen at Roadside Architecture.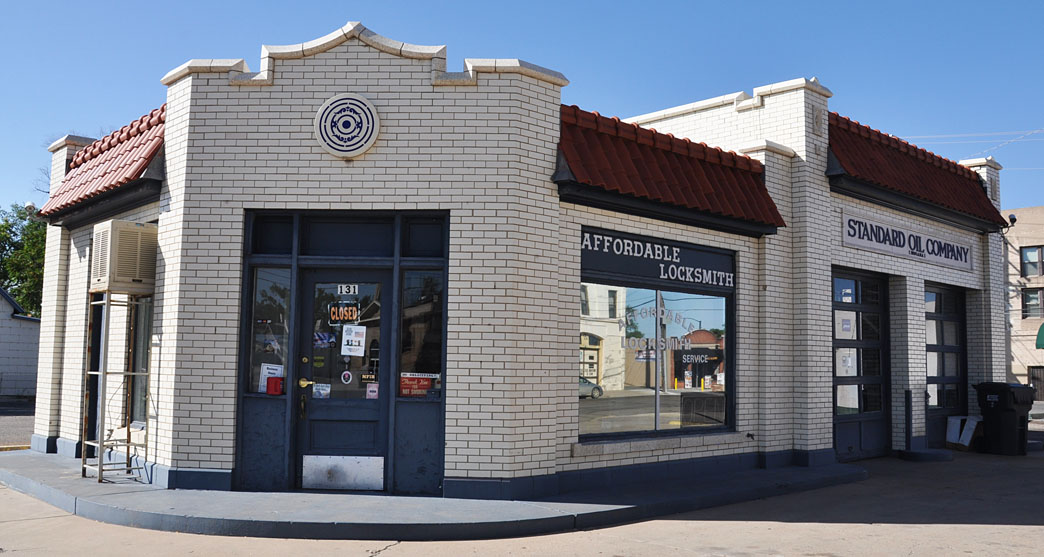 Several gas stations across the United States have been recognized for their historic significance. A 1932 Standard Oil gas station with a modified Mission design in Plainfield, Illinois is listed on the National Register of Historic Places. Another Standard Oil station, located along Route 66, in Odell, Illinois, is built in a cottage style and is also listed on the National Register.